FREQUENTLY ASKED QUESTIONS
DO I NEED A LAWYER FOR A TRAFFIC TICKET?
Yes. Every traffic ticket in the State of Georgia is a criminal offense which could result in a penalty up to a $1000 fine plus surcharges and/or 1 year in jail.
WHY SHOULD I CHOOSE A TRAFFIC ATTORNEY?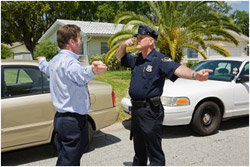 A traffic ticket involves the court, criminal law and criminal procedure. It also involves the Department of Driver Services and all of their administrative rules and procedures. Both the courts and the Department have different rules and procedures depending on your age, the type of license you have and the type of vehicle you drive. You need a lawyer with extensive knowledge and experience in both of these arenas. You wouldn't ask your family doctor to perform brain surgery: you need a specialist.
HOW MANY POINTS CAN I GET BEFORE MY LICENSE IS SUSPENDED?
The general rule for most drivers is that you can accumulate up to 15 points in any two year period before your license is subject to suspension by the Department of Driver Services. The rule is different if you are under 21, under 18 or have a CDL.
WHAT IS THE MOVE OVER LAW?
The Move Over law is a law designed to protect Police, Emergency and Highway workers while performing their roadside duties. If you see an Emergency Worker (Police, Fire, Hero, DOT, or tow truck) with their emergency lights activated, the law requires that you move over one lane or slow down AND be prepared to stop in the event that worker or office steps into the roadway.
WHAT IS A SUPERSPEEDER?
Georgia's 'Super Speeder Law' defines a Super Speeder as a driver convicted of speeding at 75 mph or more on a two-lane road or at 85 mph and above on any road or highway in the State of Georgia.
In addition to the fines and fees paid to the jurisdiction where the speeding offense took place, a $200 Super Speeder state fee is to be paid by the convicted driver. Failure to pay the Super Speeder fee within 120 days of official notice will result in the suspension of the offender's license or driving privileges.